Our Sem 5 cohort this year got a contract to revamp the HomeschoolAlumni's website. Did they succeed?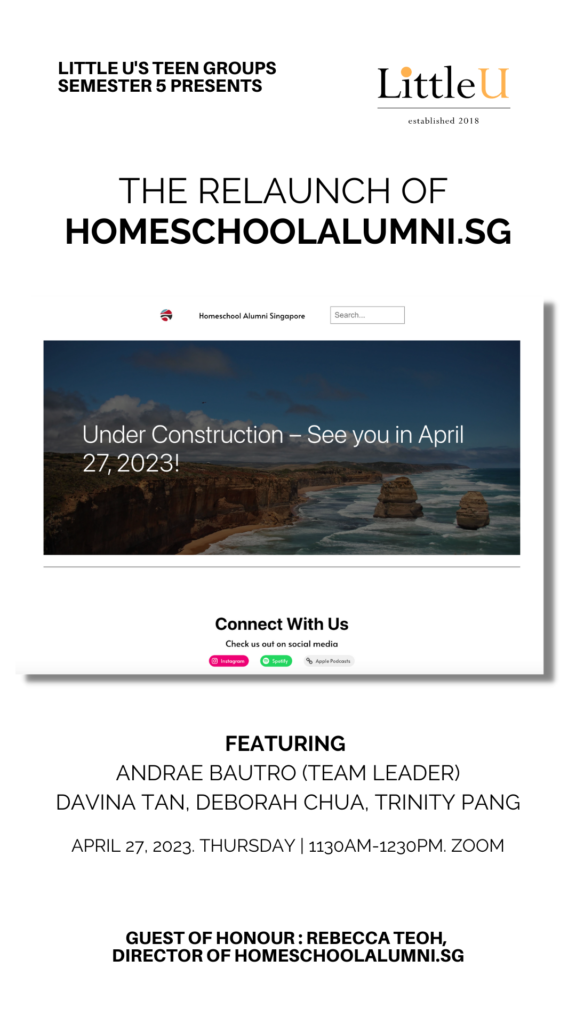 As the Little U teens progress each semester, they have to show evidence of work readiness and self-directed learning. They tackle real life problems in the marketplace. What problems did they face? How did they overcome them? And what does the new website promise?
COME JOIN US. JOIN US AT THE SEMESTER 5's TEEN GROUP OPEN HOUSE
Thursday, 27 April 2023. 1130am-1230pm.
zoom link | Meeting ID: 836 8097 0427 | Passcode: 123
PERSONAL STATEMENTS FROM THE SEMESTER 5 TEAM
Deborah Chua
Hello, my name is Deborah and I'm turning 15 this year. I'm an aspiring professional artist, reader and music lover. I enjoy spending time watching youtube channels and playing video games. I have a passion for drawing humans, both realistic and stylized, mainly using graphite or colour pencils. Currently, I'm studying for my A-levels so that I can apply for LASALLE College of the Arts. In the future I want to be a full time artist making content on platforms like Patreon and taking commissions. I've had some commissions for my cartoon art last time but lately I've just been focusing more on improving at drawing.
I worked on some website editing and content creation for the Homeschool Alumni website under the Little U Semester 5 project. My main task was to edit the website by updating photos, bios and layouts. I edited the photos sent to us to use for the website. Later on, I helped upload some of the content drafts, added interviews and checked for consistent layouts. I was transcribing 5 episodes using Otter Ai and helping my team to edit their transcripts before uploading them. Doing this was interesting as I'd never seen what goes on behind a website before, although transcribing was pretty tedious since sometimes the interviewees' words were unclear. However, I found ways to get around the lengthy process.
I'm very grateful for having had the opportunity to work with my team from semester 5 on the Homeschool Alumni website. Tech issues occurred along the way, procrastination delayed things, mutiny happened, but we managed to work through it together. From this experience, I learnt the importance of planning and communication. I would like to share with you more at our Open House about the changes needed and lots more.
Davina Tan
Hi, my name is Davina and I'm turning 15 this year. Some of my interests include embroidery, listening to music, and making digital wallpapers. Right now, I'm studying for my O-levels to apply for the Food Science and Culinary Arts course at Temasek Polytechnic. I enjoy spending time cooking and baking, especially baking birthday cakes and treats for my family!
In this semester, the team signed a contract with The Homeschool Alumni to work on creating a 2 year content plan and providing light website revamp changes. As part of the content creating team, my responsibilities included transcribing podcast episodes for website content, uploading and post-dating the website posts, and adding guest interviews.
One of the most difficult parts for me was transcribing the podcast episodes, as it was time-consuming and mind-numbing. Thankfully, I managed to cut the time taken to transcribe the episodes by almost half when I started using the youtube transcripts as a base.
Uploading the website posts went pretty smoothly, although there were a few minor complications, including some formatting issues and website problems. I also helped my teammate make sure the layout was consistent throughout all the posts, and helped to keep the team working consistently by messaging them and asking them about their progress.
I'm really grateful for the opportunity to participate in this project! It was a great learning experience and it taught me a lot about how to work and communicate with my team and clients. Through this project, I have learned a lot about the importance of teamwork, as well as stuff about website design and the analytics of the best time to post new content. It was also very interesting learning about contract terms, including how the legal stuff works, such as termination terms and confidentiality.
In our open house presentation, you can look forward to seeing more about what we did, how we problem solved, and what we learned from the process of making this project.
Trinity Pang
My name is Trinity, and I am a 16-year-old with big dreams of becoming a structural engineer. Recently, I had the opportunity to work on a project that required me to transcribe podcast episodes and revamp the Homeschool Alumni SG website. As I embarked on this project, I was eager to learn new skills and contribute to something meaningful.
As the project progressed, I found myself taking on more responsibility and wearing multiple hats. Not only did I transcribe podcast episodes, but I also suggested ads on the website to generate revenue. When the website crashed, I was able to fix it within 10 minutes, which was a satisfying feeling. Additionally, I learned how to use Elementor, a website builder, on my own, which helped me contribute more to the team's progress.
During the transcription process, the team decided to use YouTube's transcription feature for its convenience and higher accuracy. This feature automatically transcribes the audio into text, which can be easily edited and corrected hence significantly reducing the time and effort needed to transcribe the audio manually. However, it is not 100% perfect.
Some of the episodes had poor audio quality or contained accents that made it difficult for the transcription software to accurately transcribe the audio. In these cases, we would have to listen to an episode multiple times and make the necessary corrections. Moving on…
One of my proudest moments was designing the first proposed layout of the Homeschool Alumni SG site. This experience taught me a lot about wireframing, understanding website flow and storylines, and communicating with clients and colleagues. Although there were challenges such as my failure to communicate effectively with my teammates and mentor, absence from face-to-face meetings due to being out of the country, and frequent bouts of illness during the project's duration, I remained determined to catch up.
Despite the difficulties, I am grateful for the experience, which taught me many valuable lessons. I learned that web designing is not something I want to pursue in the future. However, the skills I gained will serve me well as I continue to pursue my dream of becoming a structural engineer. As a structural engineer, I will need to have excellent problem-solving skills, attention to detail, and the ability to communicate effectively with clients and colleagues. This project provided me with a solid foundation to build upon in the future.
As we prepare for our open house presentation, I look forward to sharing insights into our problem-solving methods, project development, and the valuable lessons we learned throughout the process. This project was not just about building a website or transcribing podcast episodes; it was about learning how to work effectively as a team, overcoming challenges, and growing as individuals. I am truly grateful for the experience.
Andrae Bautro
Hello everyone! My name is Andrae, and I'll be 16 this year. I'm a musician and a food lover. I sing for the Singapore Symphony Youth Choir and I usually spend my time playing video games, watching anime, or cooking. Whenever I cook I try to take inspiration from things I've seen, either online or while traveling. I am currently studying to get into Temasek Polytechnic's culinary arts course, with the hope of getting accepted next year.
I started this semester with one goal in mind: just make it through. Suddenly getting hit with a leadership role gave me a slap in the face, allowing me to see the hardships that came with leading a team, and there were ever so many hardships. "I barely know these people, and now I have to lead them?!" I thought to myself, since I normally don't take the leadership role.
The first week was a bad one, as it was the week I met my team, which was filled with people who had more experience in this aspect than me. As much as I hated to admit it, I was terrified. Having no experience is one of the worst things in a work environment, and having a leadership role just added fuel to the fire. Thankfully, my mentor was there to guide me on what I needed to do, and she opened my eyes, showing me that this whole experience may not be as bad as I thought. We split the work amongst ourselves and I was given the job to transcribe audio and contact guests that we would interview to add to the articles that would be uploaded to the website.
Of course, as in any job, there were road bumps that tried to slow down my team's progress. One that I remember ever so clearly was a complaint about the workload. As it stood, the work was too much for our age and the amount that we were getting paid. After getting them to calm down, I asked them to compile choices that would be easier and more achievable. I had the final say and told our mentor and clients about the decision, and thankfully, it was approved.
I've definitely learned a lot from this semester. The most important being the secrets of being a good team leader. I may not know it all, but thanks to my team and mentor, I can at least be better for the people I work with next.